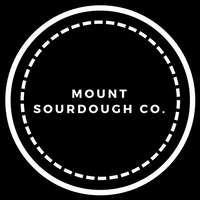 Good things take time
Mount Sourdough Co. uses traditonal methods and the highest quality ingredients to create authentic artisan sourdough breads.
Find a stockist
Testimonials
Ah-may-zing bread! How bread should be made, light and fluffy, soft and moreish. I'll definitely be heading to the Mt more often now. ★★★★★

Andrea M.
Picked up this morning - absolutely delicious bread. I will definitely be buying more! Thanks ★★★★★

Megan M.
The most delicious bread in town! I won't be buying sourdough from anywhere else. ★★★★★

Laura T.